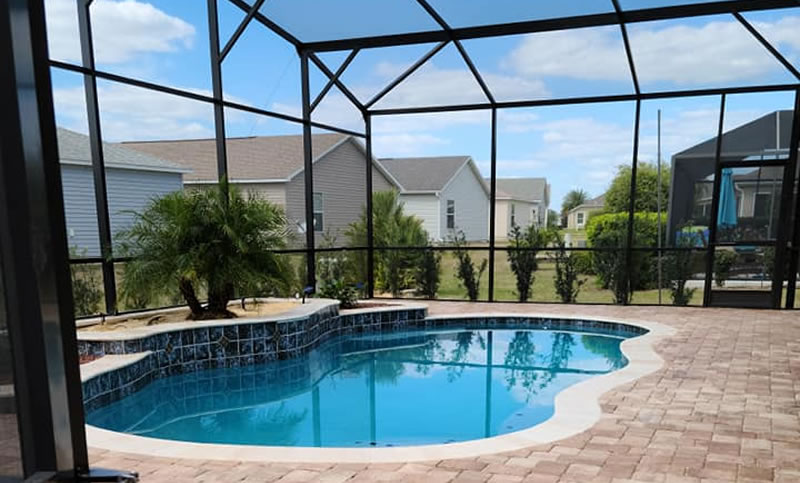 Lanai & Screened Porch Cleaning
The screen on your lanai will get dirty over time.  Dirt, grime, algae, mold, and airborne debris will slowly build up to the point where you're going to need to do something about it.
Paver Brick Super Seal is a Clermont, Florida based pressure washing company providing screened enclosure and lanai cleaning services for both residential and commercial clients.  Due to the height of some screened enclosures they can be difficult to clean both inside and outside.
We serve Clermont, and Lake County Florida.  We can carefully and safely remove years of dirt and grime from your lanai without causing any damage.
How Do We Clean Lanai & Screened Enclosures?
We start with an environmentally friendly cleaning solution.
We use soft bristled brushes to gently scrub inside and outside your lanai.
We use our pressure washer with special attachments to rinse the lanai.
We then let the screen air dry and you're left with a beautifully cleaned surface.
Why Choose Paver Brick Super Seal To Clean Your Lanai Or Screened Enclosure?
When you choose the Paver Brick Super Seal to clean your lanai or screened enclosure you're partnering with a small local company who truly cares about your project.  We are punctual, we're polite and courteous, we won't leave a mess behind, and we'll do it all for a price that is right in line with any of our competition.
Our lanai cleaning technicians are knowledgeable and experienced when it comes to properly and safely cleaning screened enclosures without causing any damage to the delicate screens.  You'll be very happy with the outcome!
If you'd like to schedule your lanai or screened enclosure cleaning estimate please give us a call (407) 488-5238 or fill out our email contact form and we'll get right back to you.